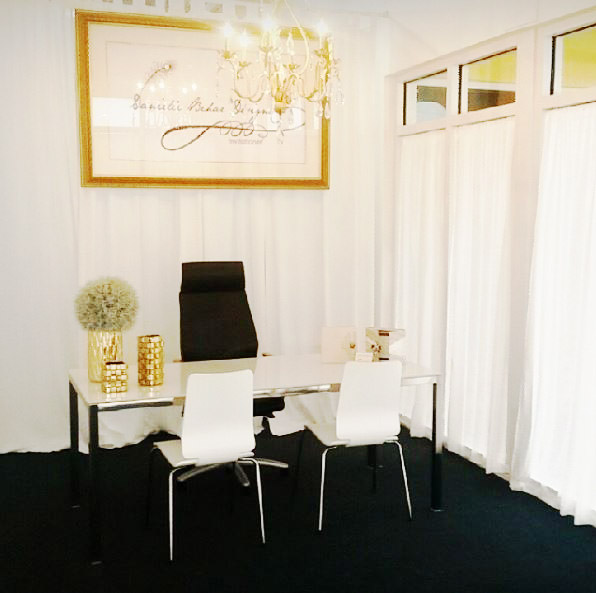 Design is not making beauty, beauty emerges from selection, affinities, integration, love
Founded in 2008 by designer and fashion enthusiast Danielle Behar,  Danielle Behar Designs, brings a unique mix of elegance and innovation to create custom invitations for any event. Danielle's true sense of creativity and love for textiles and prints has led her to a career which fulfills her drive as an artist and entrepreneur. Being the daughter of a innovative high end shoe designer to the stars,  Danielle was always around the frills and thrills of the couture fashion industry. Involved at a very young age, her surroundings had opened her eyes to the very appreciation and love for beautiful objects. In 2006, Danielle graduated from the Art Institute of Ft. Lauderdale, and shortly thereafter met the man of her dreams. It wasn't before her own wedding, that she discovered a true passion for paper, and designed her own wedding invitation from start to finish. And the rest was history!
Danielle Behar Designs offers a wide range of custom invitation & stationery services that exude flawless craftsmanship and finesse. While striving to create a superior and personal experience for each client, we take the time to know our clientele and really get a feel of their vision and event style. It begins with an invitation and ends with a blissful memory!
What People Say ?
"We are so in love with them, they are perfect!"
Why we love what we do ?
First off… I can't even tell you the response on the wedding invitations!!!!  People are SCREAMING!!!!!!  LOL!  No really, our phones and emails are exploding!  We are overwhelmed with the response.  Everyone we handed them to ask" why are you giving me a present?"  And then when they opened it, they went nuts!  Even the out of state people are dying over them  I cannot not thank you enough… you truly are unbelievable.  The event planners were stunned…they said never ever have they seen anything like this.  So you and your staff need to know that you made our dreams come true…I never ever thought they'd be as beautiful gorgeous as they are. xox xox a million times!
We make dreams a reality !
All I can say is WOW!!!! Most beautiful invites I've ever seen!!!!! I haven't seen them in person but my parents were face timing me when they opened theirs. SOOOOOO beautiful ! She took them to her job to show them off hahaha. Thank you so much 🙂 you're amazing!
Why Choose Us?
We're Creative
All of our stationery and event invitations are truly bespoke representative to each event.  We are here to bring your ideas and concepts to life and set the tone for one of the most memorable days of your life.
We're Punctual
We know how valuable your time is. We confide ourselves in getting your orders out on time for your guests to receive the invitation and your event accompaniments such as Menus, programs, place cards, etc. will be ready before your big day.
We Have Magic
Danielle's love for beautiful objects and passion for the eccentric unseen beauty of the world has been exhibited in all of her designs. We believe in the statement "more is more" while being reputable for mixing patterns, textures, and prints. Our designs are not only one of a kind, but as a creative studio, we strive to create unique and soulful visions for our clients.